On this day in 2006, Expedition Everest - Legend of the Forbidden Mountain opened in Disney's Animal Kingdom. Often compared to Disneyland's 1959 Matterhorn Bobsleds, Expedition Everest also features a snowy mountain setting and an abominable snowman. (In fact if DAK's mountain was real, it would be ranked fourth on the list of the highest summits in Florida.)
Designed to be a miniature version of Mount Everest, the mountain this roller coaster ride is built on and within is nearly 200-feet tall and occupies a 6.2-acre site in the Asia section of DAK.
Disney's 18th mountain-themed attraction, Expedition Everest - a thrilling themed roller coaster, had first been announced back in April 2003. On this day in 2006 a grand opening ceremony took place with Disney CEO Bob Iger and theme parks chairman Jay Rasulo.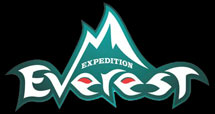 Everest features the largest and fastest moving robotic creature ... a 25-foot tall, 20,000 lb. yeti! Riders see the "guardian of the mountain" only as quickly darting silhouettes and hear its growl before getting up close and personal. (The story for the attraction is based on a legend that claims that high in the Himalayan Mountains lives an enormous creature that fiercely guards the route to Mount Everest.)
"As the ride goes along and guests get closer to the yeti, the more real he becomes, building excitement and bringing the ride to a climax when they meet faceto-face!" -John Van Oort (principal mechanical engineer for the
Show Mechanical Group, Disney Imagineering)
Escape the yeti and click HERE for more April 07 Disney history.